For those of you who are new to this monthly sign-up, welcome! And for those who have been loyal readers for some time, welcome back to your favourite read of the month!
To some it may have looked like we had a quiet February, but we were super busy behind the scenes. We have been busy making sure everything is perfect for our upcoming peak season. From attending trade shows, completing maintenance on our boats, also adding trips to our 2022 timetable season all whilst welcoming everyone on board for our Guided Bird Watching Cruises and Winter River Exe Cruises.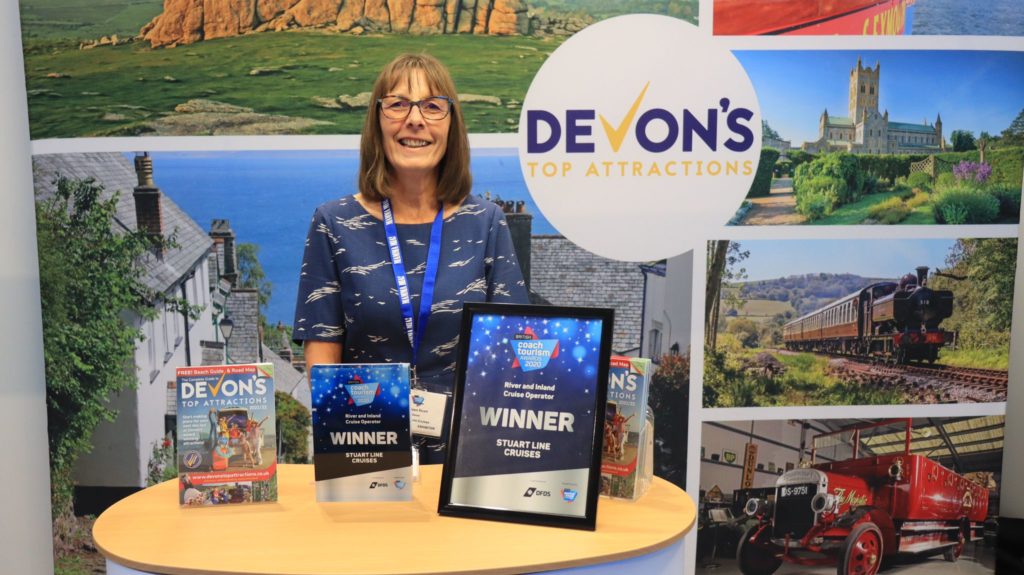 Trade Shows
We were delighted to attend the first CTA (Coach Tourism Association) conference and workshop for two years. The last event we managed to attend was way back in 2020 in York when little did we know what was to come!
It was truly amazing to meet face to face with old colleagues, tour operators and group organisers again. 2022 is looking to be a great year with everything we have planned, and we are already starting to think ahead into next year. We are excited for the future of group travel in delightful Devon.
Not only did we attend the CTA event in February we had a great time attending the Caravan, Camping and Motorhome Show at the National Exhibition Centre (NEC) later in the month. We made sure to fly the green flag proudly for Devon and showcasing everything that is great about the Southwest Region. We were in attendance with Devon's Top Attractions and Visit Devon letting all the visitors know how great our part of the UK truly is. With over 350 exhibitor stands it is always a great event to speak to a variety people.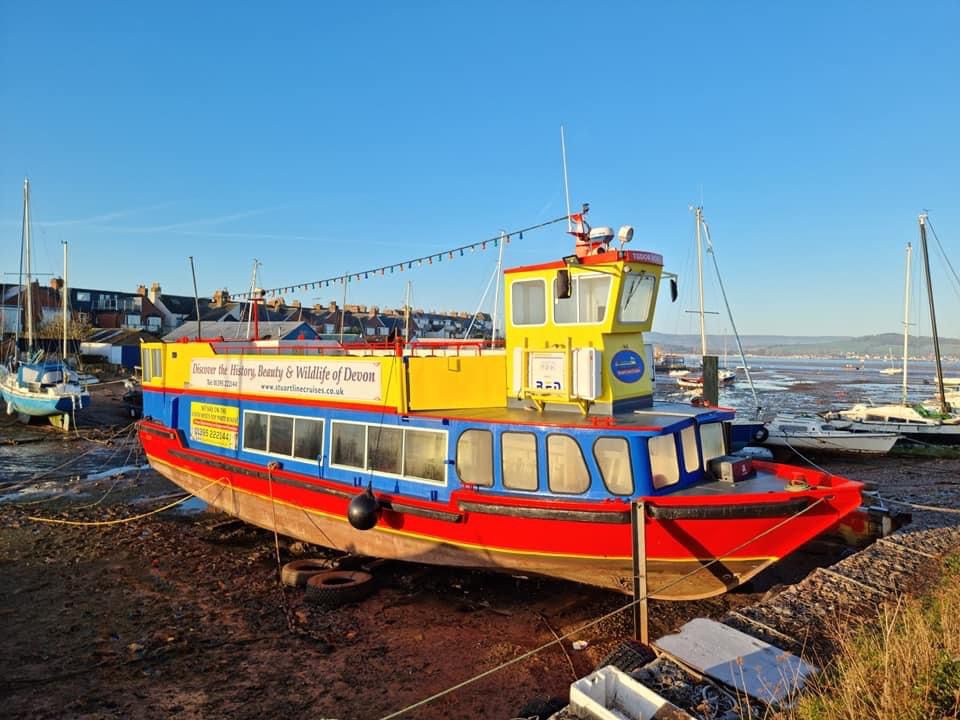 Winter Maintenance
Our weekly maintenance updates on Tudor Rose have been a hit with everyone via our popular social media channels. Captain Jake and the team have been working hard to make sure she is up to scratch in preparation for her first day back to work. As soon as she is raring to go, work on Pride of Exmouth will be able to start and we of course will keep you updated with the planned work.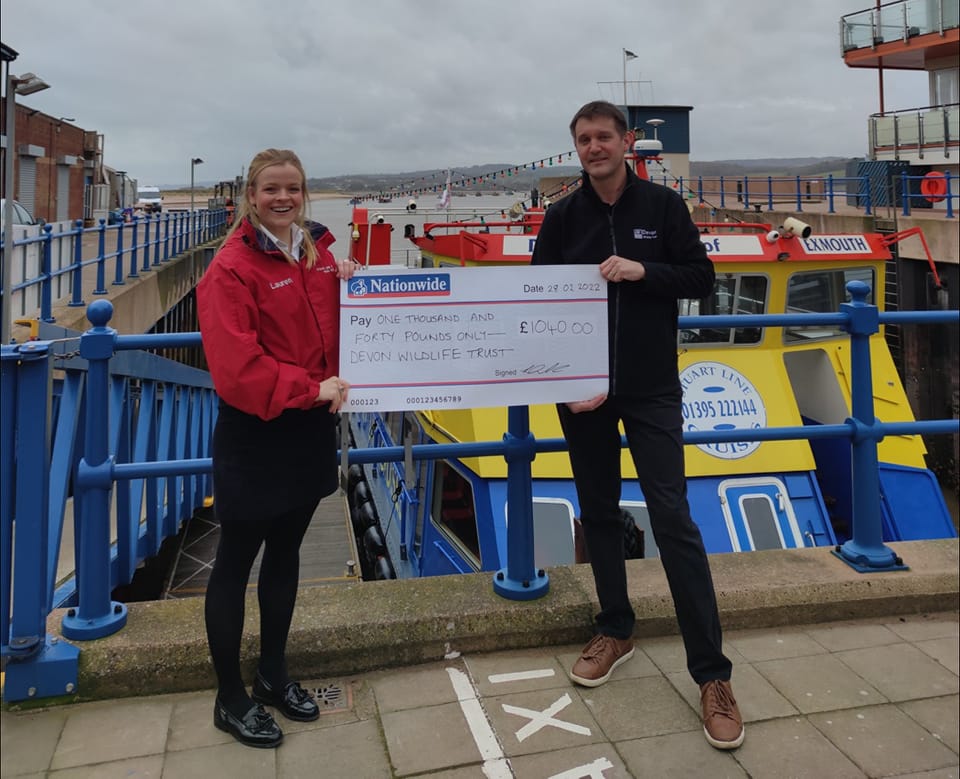 Devon Wildlife Trust
We were over the moon to present a cheque to the amazing Devon Wildlife Trust. Our Lovely passengers from our Guided Bird Watching Cruises helped raise an amazing £1040.00 all from voluntary donations between our 2020 – 2021 season.
All of the money will be used towards their upcoming projects such as the Save Devon's Treescapes. We are proud to support such a worthy cause and look forward to hearing about their future projects.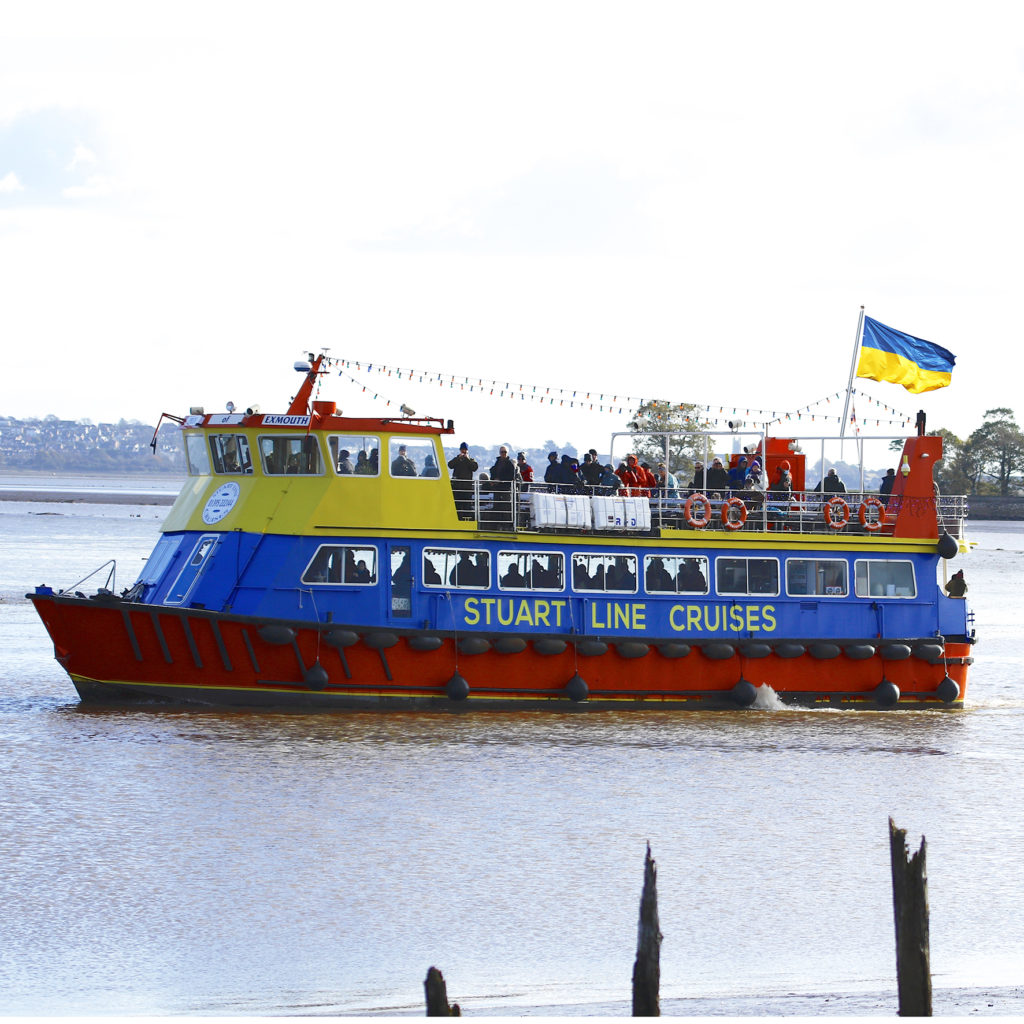 Inspiring Devon
As many of you were aware we were inspired by a dad and son duo (John of Coffeeworks and Jack from Topsham Rugby Club) who were collecting donations for Ukraine. The wonderful people of Exmouth came out in force to donate, and we were overwhelmed by the amount that was donated, our office was very much overflowing. We are pleased to say everything that was donated to us has made its way to the refugees located on the boarder of Poland/Urkraine and slightly further afield.
They are truly inspiring, and it is great to know where everyone's donations has gone.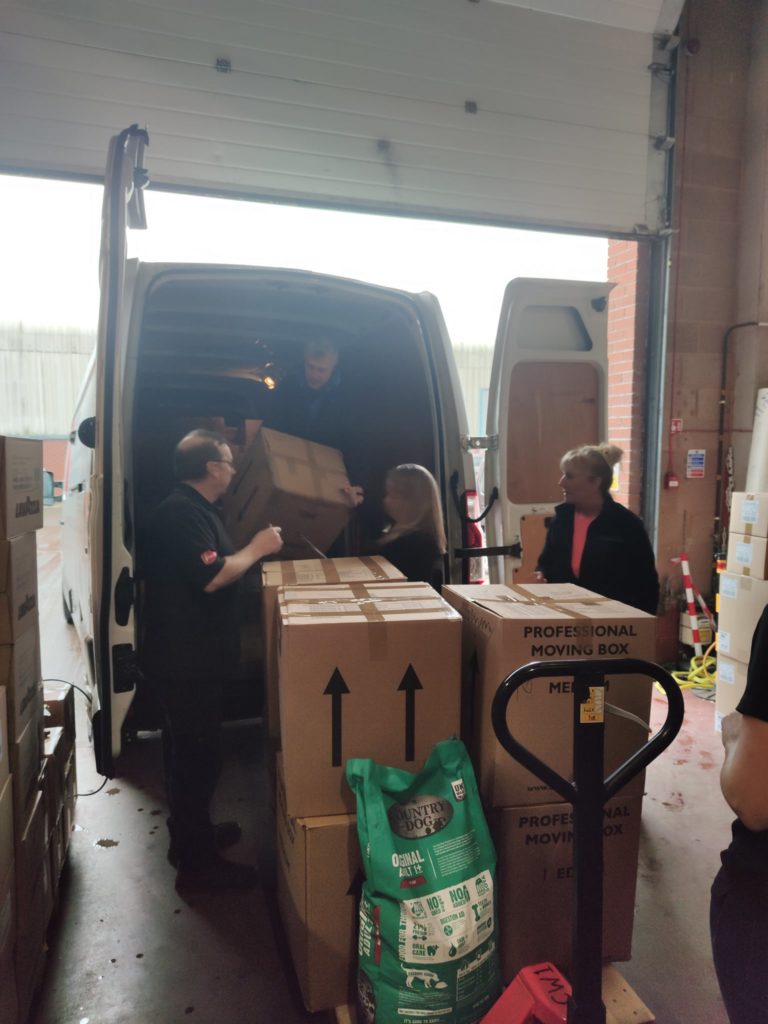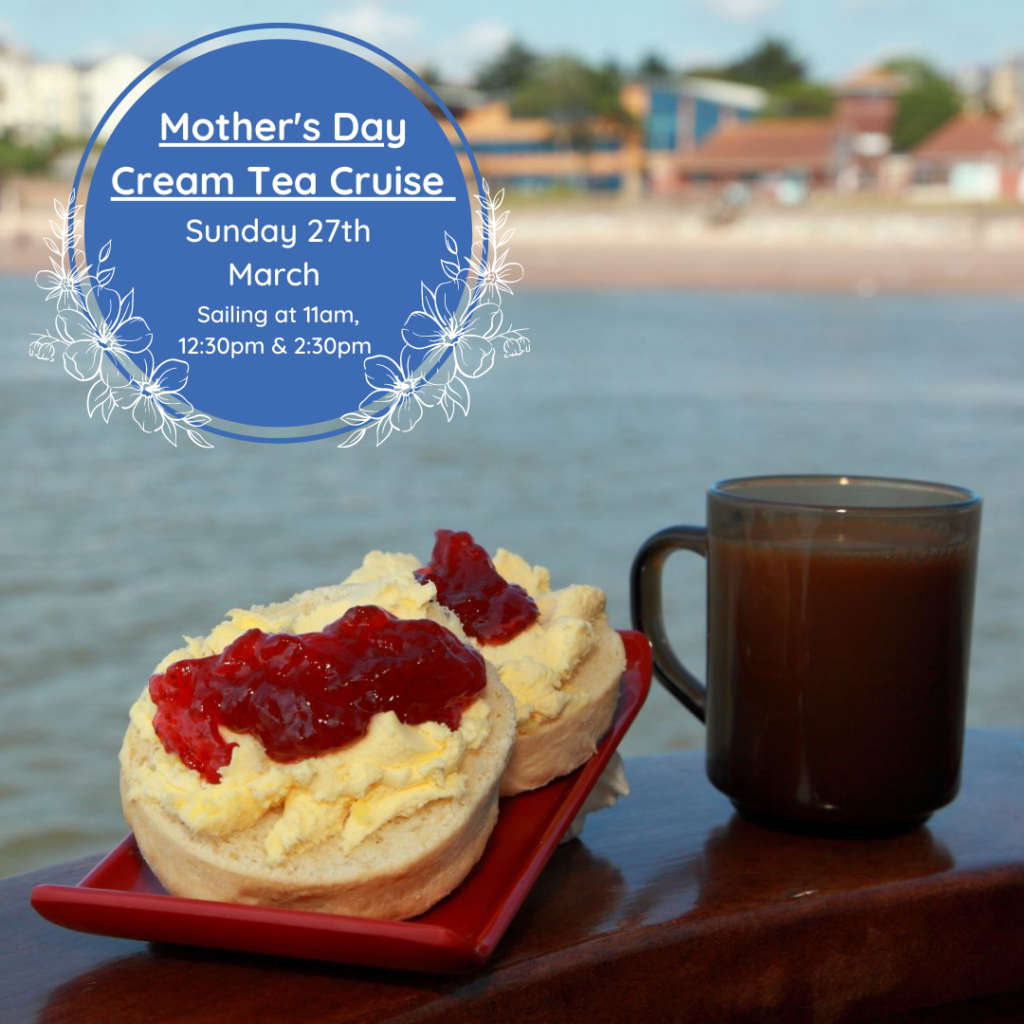 Mother's Day Cream Tea Cruise
March, will we see our very first Special Event Cruise of the year- the ever-popular Mother's Day Cream Tea Cruise.
Celebrate with your special Mothers, grannies, step-mums, friends, or aunties by spending a memorable Mother's Day in Devon. Not only do you get to enjoy a scenic cruise along the River Exe, a traditional Devon Cream Tea with oodles of cream and lashings of strawberry jam is included as part of your ticket.
Purely a day to show love, gratitude, and appreciation to all wonderful women everywhere, through acts of kindness and the giving of gifts and flowers – and in our case the gift of a relaxing Cream Tea River Cruise.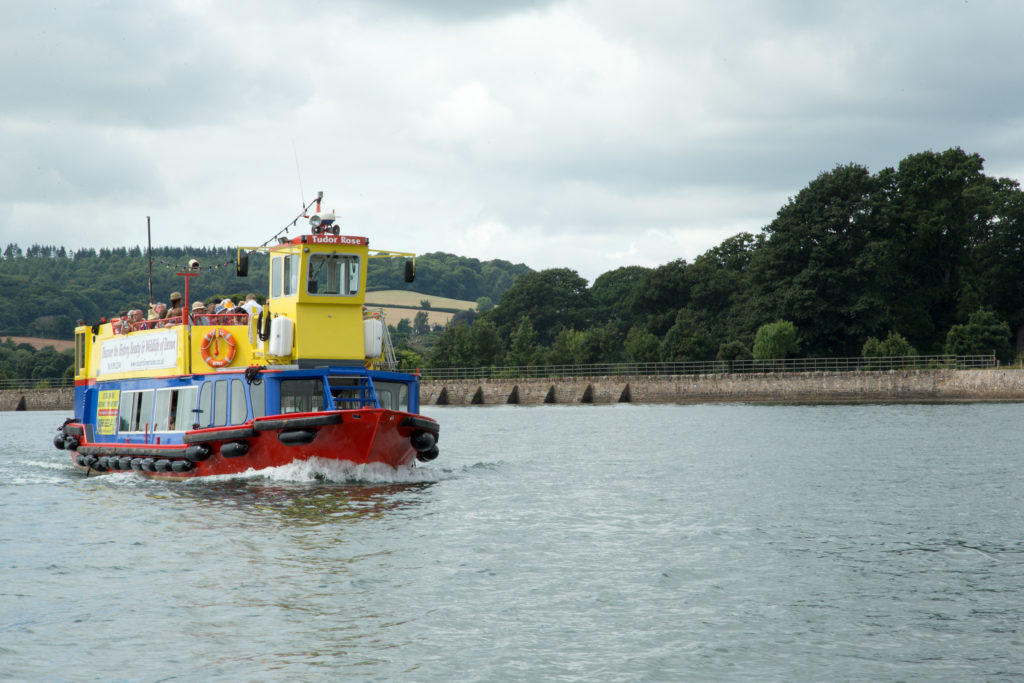 Winter River Exe Cruises
Not only does month of March host our Mother's Day Cruise, we will also be running our Winter River Exe Cruises and the last of our Guided Bird Watching for this season.
We do have some availability left for our Winter River Exe Cruises and these are the perfect way to cruise along the tranquil waters of the River Exe which is home to a wide range of wildlife and migrating birds. Our indoor heated lower decks have large windows which are great for viewing and watching the world go by. We also have the outside upper deck providing plenty of fresh air and blankets are on hand if the breeze is slightly on the chilly side.
Our skippers provide great commentary on the local area ensuring all of our passengers get to see everything this beautiful river has to offer, whilst the crew keep you fed and watered with our range of delicious drinks and snacks from the onboard fully licenced bar!
If the above isn't enough to sway you – you also get a complimentary tea or coffee as part of your ticket. Even on a rainy day these trips are perfect, in a true floating café style, what else can you do on a rainy day.
These trips are running up until the end of March, running on various days, check out our timetable below.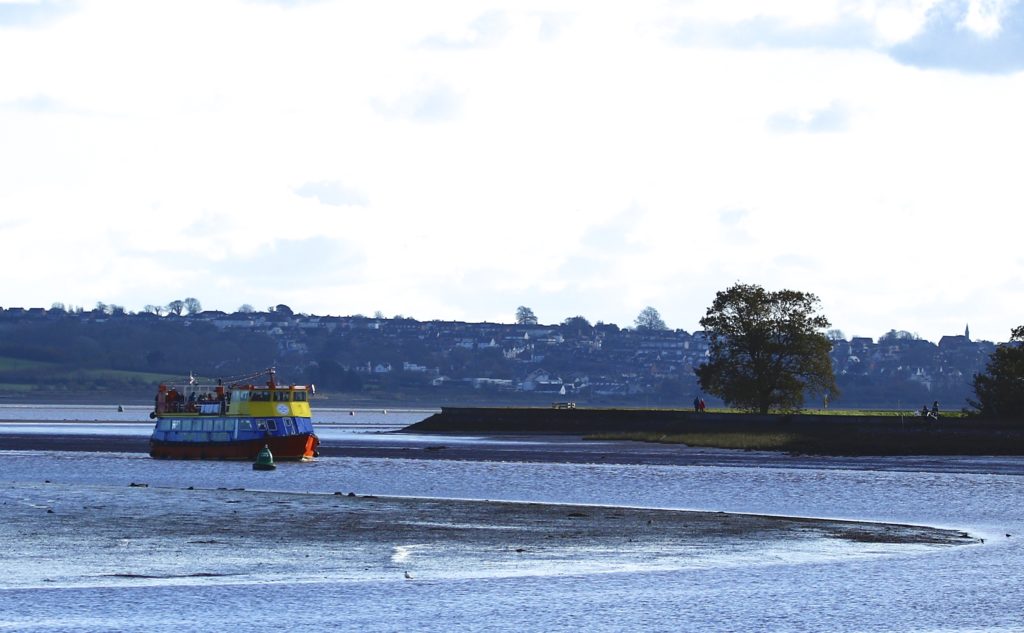 Thinking further into the year we have started to put more dates onto our timetable for the 2022 season. The majority of our Special Events are now live on our website – Even Sail with Santa! – although we won't go into too much detail as we've only just gotten over our last one. Cruises for the upcoming peak season are starting to appear regularly on the timetable and we have a cruise to suit everyone.
We are looking to have a busy season upon us and as a business who supports its local community, we do have opportunities to join our small friendly team on part time and full time seasonal basis. If this is something of interest to you then check out the link below: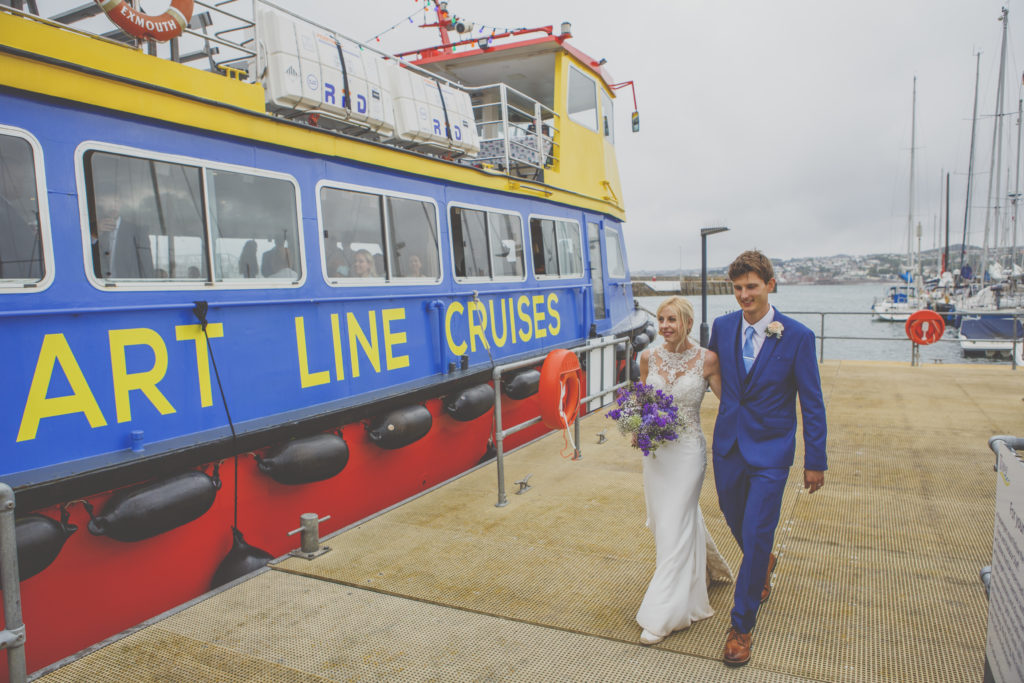 Private Charters
Our private charters are a perfect way to celebrate any celebration on board our modern vessels, from birthday parties and wedding receptions to funeral wakes and work parties, or if you fancy a get together with friends or family, there doesn't have to be an occasion to hire our vessels.
Our unique floating venues provide a stunning backdrop and to create the perfect combination there is the option to have catering or entertainment on board.
We have had some wonderful Private Charters during the winter season, and we can't wait for this upcoming season.
We hope to welcome you on board this season as you can see it is going to be an extremely busy year.
Best Wishes
Karis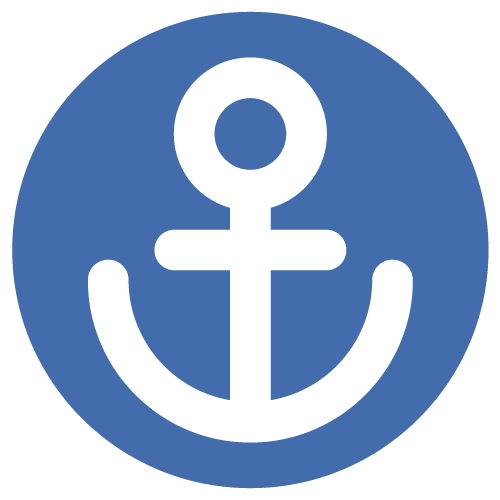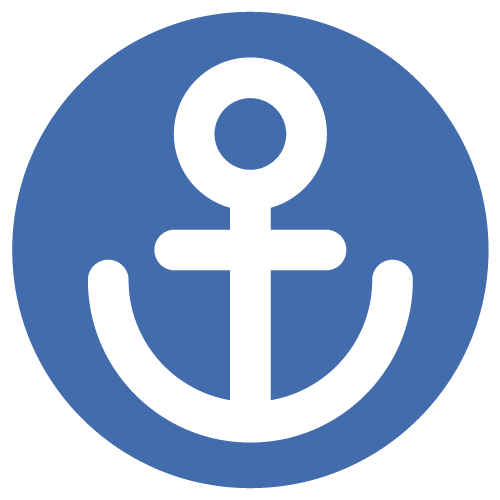 Sign up to our newsletter for monthly highlights, entertaining anecdotes and details of upcoming cruises and events!